by Allison Howen, from 'Net Features http://www.websitemagazine.com/content/blogs/posts/archive/2013/12/18/mobile-research-leads-to-conversions.aspx
Brands might want to put more resources into their mobile search initiatives in 2014, because a new study reveals that consumers spend more than 15 hours per week on mobile research, and their most common starting point is the search engine.
In fact, the "Mobile Path to Purchase" study from Google and Nielsen reveals that 48 percent of consumers begin their mobile research with search engines, while 33 percent start at branded websites and 26 percent start their research with branded apps. The data also shows that most mobile searches eventually turn into conversions, with 93 percent of people going on to make a purchase after conducting research on their mobile devices.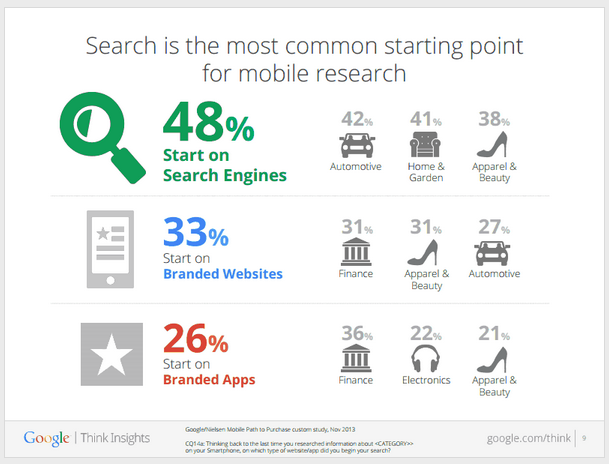 Other data from the study found that consumers are often looking for a store's location when they conduct a search from their mobile device, with 71 percent of consumers leveraging a store locator to find a brick-and-mortar business. Consumers also expect the search results to turn up businesses in very close proximity, with 69 percent of consumers expecting business results to be within 5 miles of their location and 10 percent expecting businesses to be within 1 mile or less.
It is also important to note that most mobile consumers are ready to make a purchase, with 55 percent wanting to make a purchase within an hour and 83 percent wanting to make a purchase within a day. That said, the data shows that mobile users who go on to make a purchase visit mobile websites six times on average.