By Chris Ainsworth, from Search Engine People Blog – http://bit.ly/RD5QXK
The notion of off-page optimization is one which has changed a lot over the past few years. Off-page optimization has traditionally been focused toward a direct improvement in keyword ranking – predominantly through the use of link building schemes. But with the introduction of Penguin Google virtually put an end to the traditional form of off-page optimization.
Since then, the purpose of off-page optimization has evolved. Link building has been relegated and marketers are no longer relying on off-page optimization for keyword ranking. Instead marketers are leaning towards an array of techniques to strengthen online reputation and increase web presence.
In this post I'll cover the top 5 off-page optimization techniques that you can utilize to maximize search and brand exposure.
1. Build and Engage With Your Community Through Social Media
I'm going to kick this off with social media.
With the purpose of off-page optimization leaning towards the management of online reputation there is an ever growing need to embrace social media as a legitimate, effective and extremely valuable digital marketing tool. Harnessing the power of social media is something which all business should be committing to regardless of size, stature or opinion.
Social media is a key tool for businesses helping to build and engage with a community of individuals worldwide and allows businesses to develop relationships with consumers outside of traditional transaction communication. With engagement comes added awareness which supports the development of brand integrity and authority which we know is an important factor for Google in terms of trust.
But you should not approach social media from a rank improvement perspective as this should fall secondary to the other benefits of social media. Google's classification of whether social media acts as a direct ranking signal is unclear to say the least. In 2010 they confirmed that social signals were indeed a ranking factor but how bigger role they played has been highly debatable. In addition Matt Cutts recently said social signals are not used when it comes to ranking but outlined the other reasons to adopt social media:
You can read more on this here.
So as I've already alluded to, you should approaching social media from the perspective of impact on brand value.
In my experience businesses operating B2B often perceive social media as a marketing initiative for B2C marketing only, disregarding the use of social media for B2B marketing. If you're in that boat you may want to re-think your options – don't be afraid to embrace social media marketing for B2B intent. Jayson DeMers wrote an excellent post on B2B social media marketing in late 2013 in which he explains the benefits of social for business-to-business purposes – it's definitely worth the read.
Regardless of whether you're operating B2B or B2C social media marketing should play an integral role in your digital marketing efforts; but if you're not sure how to harness the power of social media then I highly recommend you head of to Moz.com and read their beginners guide to social media which will walk you through the benefits of social media marketing.
2. Expose Your Business though Local
Google are on a massive drive towards local search; both desktop and mobile device search results have for some time now been influenced by location for queries where local intent is not explicit i.e. using IP addresses, GPS or mobile network location data to automatically tailor results towards geographic location by default. So for business with a physical local presence gaining local business exposure is massively important for the changing search landscape and the changing intent of searches.
"97% of internet users look for local goods and services online" gybo.com
In March 2014 Google continued to emphasis their local drive in the US with the first Get Your Business Online week helping US businesses of all sizes achieve an online presence.
"One in five searches is local, which means someone is looking for a product or service nearby" gybo.com
So whether you're a one-man band, an SME or a national/international organization with multiple outlets the process of optimizing your business for local search is an approach which Google endorse and one which your business should adopt.
A strong local search presence can help increase brand exposure, maximize search real estate and bring customers directly to your door. Here's an example of a brand related search for High Position in which you can see how local business information helps to dominate search real estate.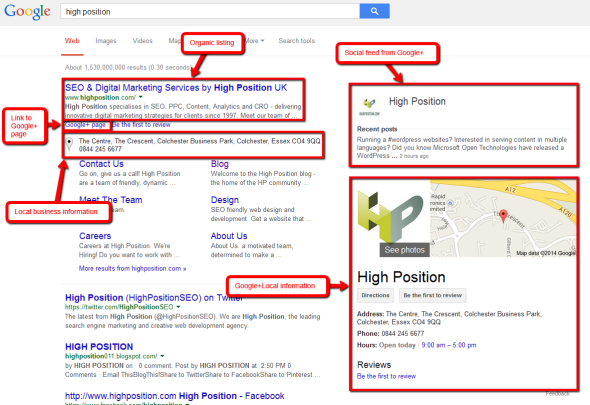 Brand search real estate for High Position
And it's not just Google who are endorsing local. Bing adopt a similar method of local business inclusion in SERPS for location based queries and, like Google, also have a comprehensive maps platform.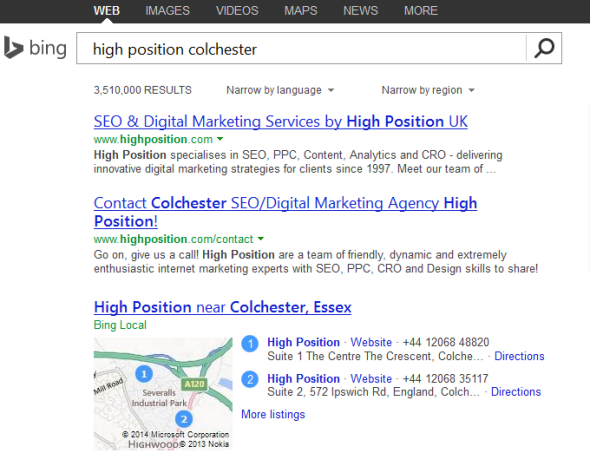 Bing local search real example for High Position Colchester
Having a local business presence, be it through Google, Bing or otherwise, is the starting point for any business that does not already have a verified local business page(s). This can massively enhance the organic search visibility of a website, making the business far more accessible to local trade through local search queries, as well as enhancing search results with an abundance of related material for brand or other related search queries.
3. Promote Local Citation & Maintain NAP Consistency
There are two factors which are consistently renowned for assisting local search visibility – local citation and NAP consistency.
In essence local citations are the citing of your business' name and address on external web properties often including authoritative business directories or other such pages with local association.
Both Google and Bing take stringent measures to ensure local businesses are validated and verified prior to listing within search to help ensure the business is genuine. Citations are another form of validation helping search engines to confirm the legitimacy of a local business.
With citation comes NAP – an acronym for Name, Address, Phone number. NAP consistency instils citation trust through consistent address usage and geo-accuracy across the web, ensuring all business citations mirror the correct business information.
It is widely believed that citation is amongst the top ranking factors for local search with a greater number of local citations with NAP consistency leading to a probability of high local ranking.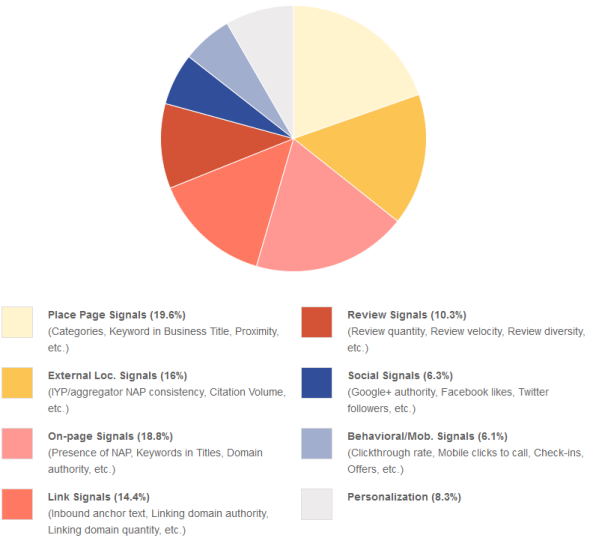 Source: Moz 2013 Local Search Ranking Factors
Even if you haven't actively listed your business on local directories or other sources it's possible that your business has naturally acquired business citation; therefore you'll need to ensure your business information and NAP is consistent.
This can be a tricky task but there are some great tools out there to assist. Whitespark is one widely used, highly recommend tool which can help to identify existing local business citation as well as helping to unearth further opportunities for local citation.
Implied Links in Brand Mentions
Taking the premise of citation one step further, there has been a lot of discussion recently surrounding how Google measures brand authority and the role which brand citation play. There is evidence to suggest that even non-linking citation can be interpreted as implied links and nofollowed link can carry weight. I would highly recommend reading the Moz post if you haven't already done so; it might just change your perception of citation.
4. Instil Brand Confidence Through Business Reviews
For any online business reviews are an important consideration for your off-page optimization strategy. A positive business review can help to instil brand confidence, assist conversion and contribute as a ranking factor for local search.
In 2013 the local consumer review survey by BrightLocal revealed that 79% of consumers trust online reviews as much as personal recommendations emphasizing the importance of positive business reviews in the buying cycle.
The brightlocal.com survey also revealed –
85% of consumers say that they read online reviews for local businesses (up from 76% in 2012)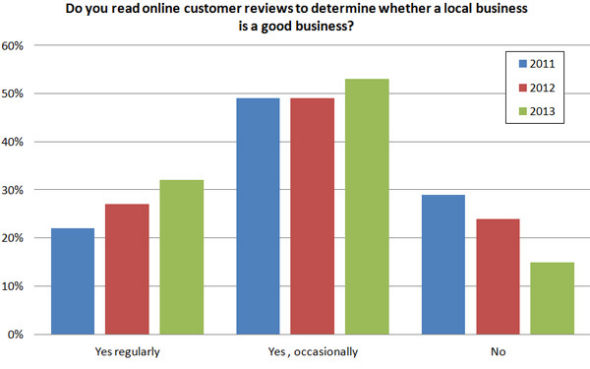 73% of consumers say positive customer reviews make them trust a business more (up from 58% in 2012)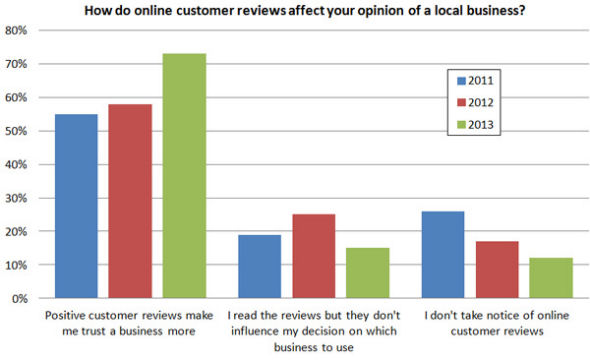 For customers actively seeking business reviews it's likely that a customer will refer to online review platforms such as Yelp, Trip Advisor, Trust Pilot and other popular review sites; so you'll want to engage these platforms where possible.
Alternatively a customer may unintentionally encounter reviews through organic search for related search queries. More recently it's been reported that Google are listing full review snippets within Knowledge Graph which is another step towards pushing reviews in front of the user; therefore it's important that you adequately manage yours, but be careful not to manipulate then or you will face the consequences.
I'd highly recommend reading this post by Paula Allen of Bruce Clay, Inc which draws from points made in a recent Google+ Hangout "Harnessing the Power of Local SEO for Your Business" discussing the importance of reviews and featuring some of the most renowned local SEO experts.
5. Link Building – Do It The Right Way!
Is link building dead? No.
Links are still the backbone of organic search and therefore still play a massively important role. Using link building as a sole marketing strategy to increase organic search ranking is certainly not a strategy that I'd endorse – Penguin made sure of that – but earning links from credible resources remains one of the most influential factors to foster a strong organic search performance.
Google's ability to detect unnatural links improved significantly though Penguin so those who use deceptive link building as a way to outsmart Google will fall on hard times; but those links which boast quality, authority and trust whilst steering clear of manipulative keyword anchor techniques will continue to portray positive signals to search engines and hold long-term value.
In regards to which link building techniques still make for a worthwhile time investment, there is still a lot of controversy around the subject but here are a few pointers:
Directories
The days of bulk link acquisition through spammy, low-quality or paid directories are well and truly dead; but many directories with editorial discretion still carry weight. Yahoo! Directory, Yell.com and Thomson Local still carry positive link equity as well as local business resources such as a Council directory of local businesses.
These types of directory will help with local business citation to assist local search ranking (as previously mentioned) but more importantly they'll help potential customers to find your business, which is the core purpose of a business directory in the first place!
Utilising Industry Contacts
You may be able to acquire credible links from suppliers or otherwise related companies where link acquisition is mutually beneficial and beneficial for your customers. So approach your industry contacts and open a discussion around the subject.
Competitor Link Analysis
Techniques such as competitive link analysis can also be advantageous to expose and leverage link opportunities from web properties which have listed or otherwise mentioned your competitors.
Guest Posting
Yes, even guest posting (contrary to popular belief and recent hype) can be advantageous; but it depends on purpose. If you're guest posting en masse just for link value then you're doing it wrong.
On the other hand if you're an expert in your industry, writing relevant, informative material for credible, relevant resources and you link to relevant material on your own site (perhaps a piece or research or other such information) this isn't outside of search quality guidelines, it's earning links based on merit and integrity. In case you're not convinced here's Matt Cutts on the subject:
If you want to read more on this I strongly suggest you read Matt Cutts' blog post on the topic.
So link acquisition is still important, but it needs to be done correctly and in accordance with Google's link scheme guidelines.
Conclusion
So there you have it, my top 5 off-page optimization factors to consider in your digital marketing efforts.
The difficulty you may face now is how to proportion your time especially if you're marketing an SME with limited resources. So where do you start?
No matter which way you look at it you cannot escape the fact that link acquisition remains an extremely effective technique situated high on your list of priorities. Authentic link acquisition requires time and dedication so it's likely to take a significant level of resource.
Local business exposure is to an extremely important factor for those with a physical business location, so securing your local business profiles should feature highly on your list of considerations.
Subsequently the use of local business citation, NAP consistency and business reviews will each help to underpin your efforts with link acquisition and local business coverage.
As for social media, this should be a part of your daily marketing. How much or how little time you drive towards social media is at your discretion; but whether you're building your social community from the ground up or managing an existing community be prepared for social media marketing to take time and investment – it will be worth it in the end!
Finally I wanted to leave you with a little food for thought. Since the fundamental purpose of off-page optimization has shifted from rank acquisition to overall brand exposure and online reputation management, perhaps there are other areas which you're yet to expose? Given that the ultimate aim of the game is to drive traffic and increase conversion perhaps utilizing third party merchant platforms such as eBay, Amazon or even Google's shopping platform could assist? From the perspective of brand integrity, authority and credibility, citation, and developing customer loyalty these third party merchant platforms may just help! Can you think of any other techniques which may assist your business?