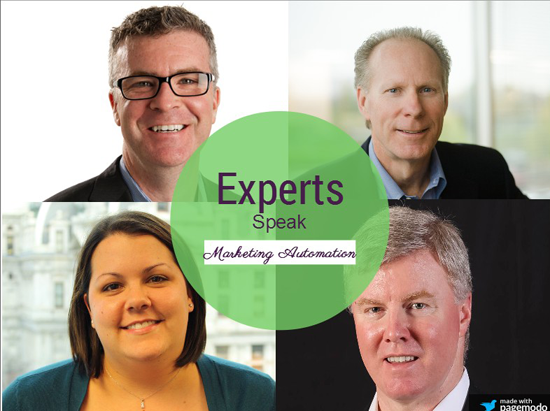 By , from 'Net Features – http://bit.ly/1gPE9GY
Marketing automation can seem like the cure to most marketing woes, but clearly not all software systems are created equal.
In fact, VentureBeat reports that almost half of companies are using more than one marketing automation system, with 24 percent using two, 12 percent using three and smaller percentages using even more. To help with the marketing automation buying decision, Website Magazine interviewed nearly 20 Internet professionals to provide what they consider the top three, must-have marketing automation features.
Dan Keating, Chief Information Officer of Catalyst
Choosing the right marketing automation tool is a lengthy process. All of them can do the basics – execute email, SMS, social and Web campaigns with ease, and hook into your CRM easily enough. But here are three things you might want to think about:
1. Is the vendor the right size for you and your client?
We're a small and nimble company. If we have a new idea that we want to implement, we want a vendor who can make those adjustments quickly. We want to know the developers who write the platform. A smaller vendor like SDL can give you that. Oracle Eloqua or IBM Unica can't. Conversely, if we're doing marketing for Ford, we want the bigger, more established vendors, who can handle robust multichannel programs.
2. How quickly can you go from brainstorm to dashboard?
Flashy reports with compelling data are the key output of any MAT. How quickly can you go from blank canvas to completed report, and how easily can you publish the findings to your stakeholders, without a complex BI build? Do you need an analytics team to generate reports, or can marketers easily get the data they need?
3. How does the platform handle multichannel campaigns?
Platforms do this differently. Some vendors allow for a single campaign that utilizes a variety of channels, while others want a separate campaign for each channel. How does the vendor's methodology mesh with your own, how easy will it be to report on single and multichannel campaigns, and how challenging will it be to support the programs in production?
We understand that marketing and advertising are significant investments for businesses, yet statistics show that 75 percent of leads fall through the cracks. When looking for the right marketing automation software the three top components are:
1. Ease of use – Keeping track, following up and closing deals with all of the leads a company generates is an enormous task. Be sure the software is user friendly and easy to use.
2. Smart System – Be sure you understand exactly how the software will help convert leads and maximize SEO to drive visitor engagement. Will the system send you reminders and notifications? Is your staff receiving automated messages via texts, emails or a mobile app on when to follow-up? Does the system have a mobile app? Are automated messages personalized and sent to prospects to keep your business top of mind? If the system you're looking at doesn't check off all of the boxes, keep looking.
3. Powerful mobile application – Mobile is important as ever. Combining the two above, be sure the system you choose has a mobile app that lets you and your staff check up on prospects on-the-go, prioritizes leads, and provides full information on each lead, lead source and how often the team has engaged with the prospect.
Marketing Automation Software used: Silverpop
1. Integration Capabilities
A marketing automation platform sits at the core of an integrated marketing program. The ease with which your platform integrates with your marketing database, CRM/SFA systems, social media management software, telemarketing systems, ad serving platforms, etc., is a critical factor.
2. Sophisticated Journey Capabilities
All marketing automation systems allow you to implement basic journeys for your prospects and customers. However, as your marketing automation program becomes more sophisticated, you'll want to implement complex, multi-layered journeys. Make sure that the system you choose can handle complicated journey logic.
3. Reporting and Analytics
Your marketing automation system should provide robust reporting capabilities that can effectively integrate with business intelligence tools to deliver rich, actionable information. It should also be capable of tracking behaviors across both online and offline channels.
Michelle Brammer, Marketing and PR Manager at eZanga.com
1. Decision-based email marketing – The ability to nurture a buyer through a journey with interactions via email to drive them further into the sales funnel by continuously engaging with your products or services.
2. Reporting and tracking – With any activity, you need to be able to easily measure if it is working or not, so that you can tweak the user experience. A marketing automation tool that includes good, strong analytics and analysis, makes the users' job much easier in identifying patterns and trends of effective and ineffective behavior.
3. Integration into a CRM – As a B2B business, this is particularly valuable. With CRM integration, both sales and marketing can segment out leads, what their needs are, and where they are in the funnel, long before the first true sales call is made. This is invaluable information for a sales team to have to engage with a customer on more of a personal level, since we're already aware of their pain points.
For our marketing automation needs, we utilize the Vocus Marketing Suite, which we have found to be perfect for small businesses like ourselves.
Our company advises clients who use a variety of marketing automation platforms, including Pardot, Hubspot and Marketo. As a company, we use Salesforce CRM and ExactTarget email automation.
I have a few tips for buyers who are looking to select a marketing automation software:
1. Make sure you can easily build and implement forms. These will help you to evaluate the quality of inbound leads engaging with your website and content.
2. Evaluate the automation abilities. Can you set up alerts that are beneficial to your organization? Also ensure that the automation rules actually make your life easier – rather than complicating it.
3. Ask about team collaboration. You'll want to make sure that sales reps can be assigned to every user, and that you can easily ensure that leads aren't unknowingly being nurtured by two salespeople as the same time.
Most marketing automation platforms include the basics–at a minimum they should include templated email and landing page creation capabilities, tokens for personalization, database integration with your CRM, lead-scoring tools, automated workflows, form creation and field management.
One often overlooked capability is the ability to set up multiple scoring profiles. If you sell to different customer segments, a prospect behavior such as an email click or page visit may indicate a great customer for one product line, but a poor fit for another. Multiple profiles give you the flexibility to match prospects with the most appropriate offers.
Another useful capability is hosting of files and images within the marketing automation platform. Some marketing automation systems require that all files and images be hosted on an external or company server. This increases complexity when setting up emails and landing pages as navigation of two systems with different URL paths is required, along with absolute URLs.
Finally, a flexible and robust API is needed for integrating the marketing automation platform into existing business tools and workflows. While billed as all-encompassing, the reality is that even the most comprehensive marketing automation platform will require receiving and passing data to and from other corporate systems. Built in tools that enable those handoffs make it easier to automate the overall marketing workflow.
Christa Freeland, Marketing Manager at Powershift Group
For many marketing automation tools, you'll see generally the same major features: lead grading, various paths of lead nurturing, social media publishing, email marketing, landing page and email templates, automation rules, all around analytics, and a few more. Ensuring that your marketing automation will speak well with your CRM tool and how it translates to the sales pipeline is really important. It's a big reason why CRM platforms have made acquisition or partnership moves with marketing automation software vendors within the past two years.
I think it's important to check the software vendor's current customers/references in that their client care is great. Undoubtedly a bump in the road will occur when using the product, and how quickly the issue can get resolved and you and your team's experience with working with them, will be a huge factor in your overall marketing automation experience. If you can really hone in on that information, I'd say it's almost as important as feature requirements.
As marketing automation software is relatively new and will perpetually change and improve, it's important to clearly understand your business's strengths and weaknesses and know where marketing automation can take a strong stance. Your marketing and sales goals should be communicated to the vendor and you should also ask for recommendations about how exactly you'll benefit from their software knowing your goals. It's just as important to learn about their product as it is for them to learn about you and your business needs. This will ensure a successful purchase and sustainable relationship.
Marketing automation used: I've used Pardot for almost three years as the marketing automation and CRM manager. (We were one of Pardot's first customers!)