By Nathan Safran, from Search Engine Watch – http://bit.ly/1hRnjS6
I had the pleasure of discussing the SEO competitive landscape as part of the "5 Spying Strategies You Can Use Today to Dominate Your Competition" panel at ClickZ Live New York earlier this month.
The key takeaway: your online competition may not be who you think it is.
Here's why you should avoid making assumptions about who your competitors are, why you should view the competitive landscape in aggregate form, how you can compete with Google for clicks, and why you should discard old competitive thinking.
Avoid Stale Assumptions About Your Online Competition
Whether you work at a search agency, at an SEO platform, or as a consultant, you've probably asked new clients to provide a list of their keyword competitors. You might get back a list of competitors A, B, and C – but with some research you discover that your client's primary online competition is actually D, E, and F.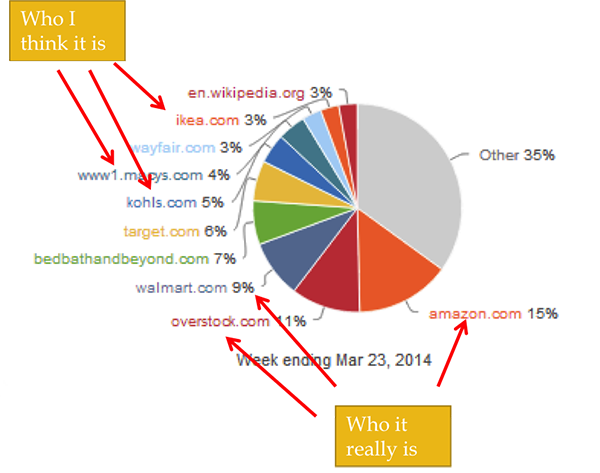 This phenomenon spans both B2C and B2B companies and occurs either because there are assumptions about competitors that carry over from a brick-and-mortar world to the digital world, or because it is the first time marketers are looking at the competitive landscape in aggregate form.
Evaluating on a keyword-by-keyword basis hides the fact that competitors are pulling away from the rest in the overall space.
Here's the problem with not knowing who your online competition really is: Any subsequent competitive analysis – competitive backlink opportunities, keyword discovery, and even content strategy – will be misguided because you will be looking at the wrong competitors. The solution is to be thorough about discovering who your online competition really is before diving into the tactics.
Online Competition Can Vary by Product or Business Line
Viewing the competitive landscape in aggregate form allows for the discovery of true online competition. Segmenting keywords by business or product line allows for even greater granularity and insight.
Take a large retailer that carries multiple product lines. By segmenting keywords into "furniture" and "apparel" segments, the retailer can clearly see that their competition differs significantly and can adjust strategy based on that knowledge.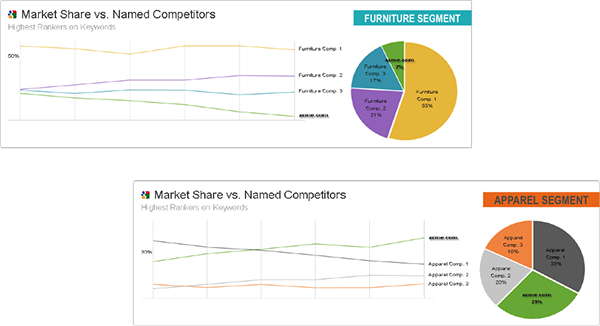 It's You vs. Google in the Currency of Clicks
Competition in search is different from the competitive landscape we've previously encountered.
In the traditional brick-and-mortar world the customer either bought from my store or they bought from the competitors. In search, the currency is the click, and if they aren't clicking on our link they could be clicking on any other link on the page, whether or not we think about them as direct competitors.
We've got to be thinking about competitors as anything on the page that could capture customer clicks and attention. Increasingly that means we're competing with Google. Whether it's news, images, video or Knowledge Graph results, we shouldn't neglect opportunities to capture real estate on our SERPs.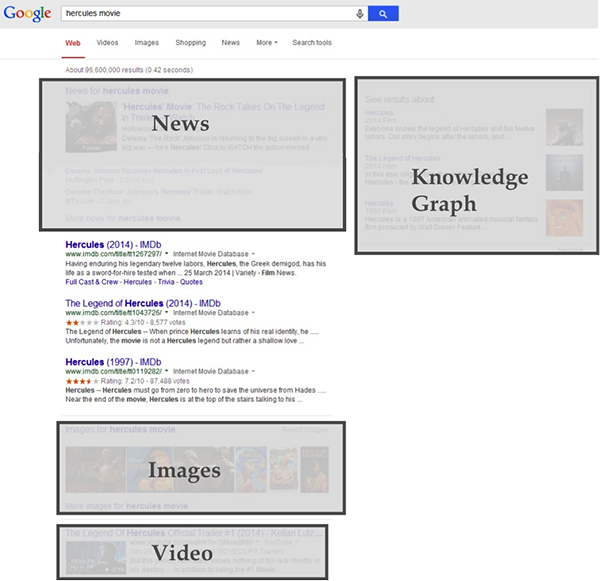 That doesn't mean we can create sophisticated videos for every one of our keywords to ensure Google surfaces video snippets for every relevant search, but it means we want to be plugged in enough to our competitive landscape to know when there is opportunity to optimize a digital asset for some strategic keywords.
This is true even if we are in a top ranking position for the keyword – the more real estate on a SERP we can capture, the better – particularly when it comes to rich media.
Discard the Old Competitive Thinking
With more than 3 billion online searches occurring every day, there has never been greater opportunity for search marketers. But along with that opportunity comes competition; the competitive landscape has also never been more crowded, with many jostling for their share of the online pie.
We have to discard "old thinking" when it comes to the online competition. Old thinking that includes outdated assumptions about who our competitors are, how deeply we examine them, and the actions we take to capture our fair share of the search click.
Fact is, if you aren't thinking outside of the box when you're looking at your online competition, you're likely to find out that you're no part of the competition at all.