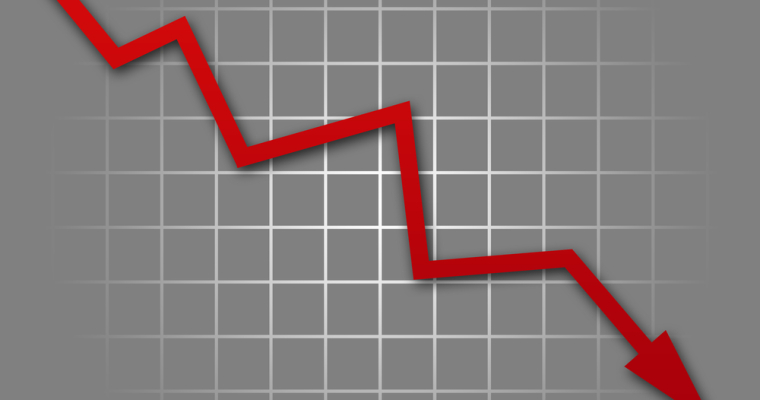 By Neil Patel, from Search Engine Journal – http://bit.ly/1qdfktH
One of the biggest questions I get from SEO clients is this: "Why are my rankings dropping?!"
That's a really complicated question, and it has a lot of moving parts. There are a few obvious reasons:
You got hit with a manual penalty.
You have no content.
Your site sucks.
Any number of other reasons.
But there are not-so-obvious reasons, too. Most of these have to do with things your competition is doing. The competition may be pulling some SEO technique to outmaneuver you.
When I dig up these reasons, it usually comes as a major surprise to the client. However, once they figure out why their rankings are dropping, they understand how to fix it.
Recently, I've encountered three such issues that are coming up more often. Could any of these be affecting your traffic?
1.  Your Keyword is Not in the Page Title
Explanation
If you are losing ranking for a specific keyword, the problem could be that you are not using this keyword in your page titles.
If not, you need to add it immediately.
The page title is the single most important on site SEO element. Without a finely tuned and carefully optimized page title, your SEO will struggle.
Example
A major social video site discovered a new potentially profitable keyword for which they were not ranking. They added this keyword to a major gateway page, and their rankings shot up to the first page of Google in just two weeks.
Tips for Fixing It
You will be more likely to regain rank if you are focusing on a long tail keyword.
Use this keyword on a page that already has high organic traffic.
Support the keyword with additional on page content.
Don't overuse the keyword. Once in the title, once in an H1, and once in the body should be plenty.
Use the keyword on more than one page. You may wish to add this keyword to the title of several subpages, too. Don't oversaturate your site with the keyword by putting it on all the first-tier navigational pages. Instead, sprinkle it throughout subpages and especially content-rich pages such as blog articles.
2.  Your Most Significant Keyword-Focused Page Lacks Quantity of Backlinks
Explanation
Often, a site has a subpage or focused landing pages for attracting organic traffic for a certain keyword. If this subpage does not have enough legitimate backlinks when compared to competitors, its traffic will drop.
Example
A major financial institution used to have first-page results for the term "home mortgage approval." With the rise of competitors, their rankings for this keyword dropped sharply. When they compared the backlink profile of their "home mortgage approval" landing page, they realized that they had far fewer backlinks to this page than their competitors.
How to Identify This Problem
In order to see how or if this issue is affecting your site, you'll need a way to analyze segmented backlink profiles. I used Link Research Tools.
I performed a competitive link analysis on their landing page and several competitors' landing pages.
[sitename]/home-mortgage-approval
https://www.lendingtree.com/mortgage-approval
http://www.zillow.com/mortgage-rates/buying-a-home/pre-approval/
http://www.moneycrashers.com/getting-approved-mortgage-loan/
https://www.usbank.com/mortgage/pre-qualification-pre-approval.html
http://www.quickenloans.com/home-loans/mortgage-pre-approval
The issue became obvious in my analysis. For example, my client had 56% followed links, compared with a 78% competition composite average.

I also analyzed their referring root-domains and compared it with three competitors. I noticed a lower number here as well.

The issue was not with their overall domain authority, page authority, or sitewide backlink quality. The issue was with the backlink profile of a specific page. Since this page was highly focused on a specific keyword in a competitive niche, it was essential for that page to possess a high-quality backlink profile.
My client's ranking was dropping because their page's backlink profile was not strong enough in comparison to the backlink profile of their competition's corresponding pages.

3.  Your Most Significant Keyword-Focused Page has a High Proportion of Low-Trust Inbound Links
Explanation
A similar problem occurs when your site has a lot of links, but they are low-value links. If you are losing rank for a specific keyword, then you may have plenty of links, but they may be detracting from the value of your page rather than adding to it. Or it could be that these links are adding very little value to your link profile.
One of my client's had a link issue that was affecting several of their highest-revenue keywords. When I ran some tests with Link Research Tools, I noticed that their link profile for a specific category page had virtually no high value inbound links.

LRT uses their trademarked "CEMPER Trust" scale to quantify the relative value of a link. Moz uses "Domain Authority." MajesticSEO uses "Trust Flow." The algorithms differ, of course, but point to a similar issue:  The backlink profile has few high quality links.
Diagnosis
I was able to diagnose this lack of high-value links by realizing the symptom — organic traffic loss on a keyword-focused landing page. I also noticed that the competition had more high quality links for their corresponding landing pages. Finally, I realized that the link profile for their page was glutted with low quality links.
4.  You're Not Using Schema
Earlier this year, Search Engine Land reported findings from Searchmetrics that 36% of Google's search results display schema markup, but "almost no websites use it."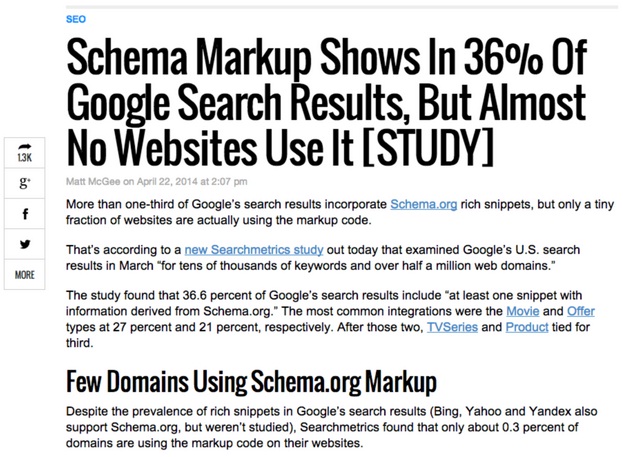 Saying that "almost no websites use it" sounds like a wee bit of an overstatement until you look at the numbers. Domains that have schema integration are miniscule compared to websites that lack it.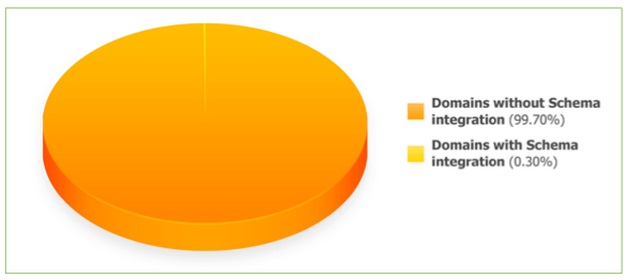 Does schema markup cause these sites to rank higher? Or is it just that the high-ranking websites are just so good at SEO that they also have the time and resources to implement all that schema markup?
What I've found out is the my clients come to me concerned about ranking. Here's what I always do:
I google the term for which they lost rank.
I identify the top 3-5 organic results.
I test them.
I find out that they have schema markup.
Other times, the problem isn't necessarily rank, but SERP click-through.
Example
On of my clients sold a certain popular toy. Their click-through for this toy was at a perilously low-level, and all their competitors were selling more products than they were. When I dug into the issue, I found out that all those competitors had beefed up their pages with schema. My client had none.
Here's what it looked like in the SERPs: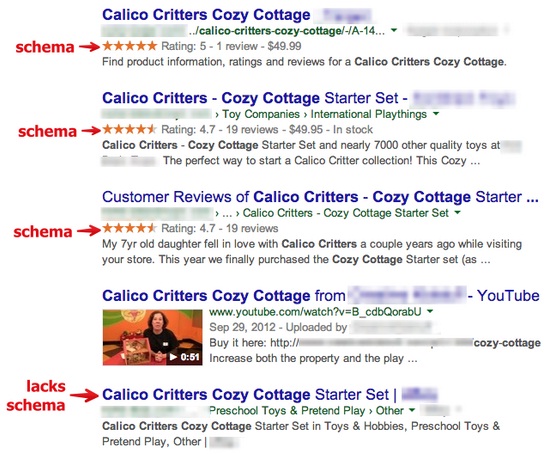 Without the extra SERP bling like star ratings, reviews, and prices, my client didn't have the same rank level or CTR that the competition did.
Schema is a bit tricky. As the collaborative team of Schema.org admits, "Not every type of information in schema.org will be surfaced in search results." So is it worth going to the effort of marking up so many different details on your pages?
I think it is. Schema is becoming a more consistent component of high-ranking sites. As wearable technology evolves and mobile technology continues to expand, schema will probably find even more intuitive and advanced ways of implementation into the digital lifestyle. Schema.org's documentation predicts that "more data will be used in more ways."
To easily figure what schema to use, take a look at your competitors.
Conclusion
There are always random fluctuation in the SERPs that cause confusion. One day your rankings will be sky-high. Two days later, you've dropped a dozen positions, and are losing revenue.
You're never going to know all the reasons you lost ranking for a given keyword.
However, if you notice that your traffic for a certain keyword is consistently low, then check out these reasons. You may just discover a reason you weren't expecting.
Image Credits
Featured Image: Alexander Mak via Shutterstock
All screenshots taken October 2014