According to a recent survey, WordPress is powering nearly 21.2% of all the websites on the internet making it the most popular CMS in the world. Despite all that, there are still people who know very little about it. After talking with numerous people not familiar with the platform, we've learnt that there are some very common misconceptions about WordPress. Usually these misconceptions are based on what they have heard from others rather than trying WordPress themselves. In this article, we will try to address some of the most common misconceptions about WordPress. We hope this will help clear things up for some new users who are reluctant in joining the awesome WordPress community.
1. WordPress is Just a Blogging Tool
This is by far one of the most common misconception. Yes while WordPress started out as a blogging platform, it has evolved. Today, WordPress is a web software and can be used to create any kind of website including but not limited to blogs. One out of every 6 websites on the internet is built using WordPress and a great number of these websites are not blogs. WordPress is used on eCommerce websites, corporate sites, online news and magazines, and in almost all industries and categories. It is used by governments, non-profits and many Fortune 500 companies.
Some Unique Use Cases of WordPress:
2. WordPress is Not Secure
WordPress is secure, and this is one of the reasons for its popularity. WordPress is an open source software which means its source code is available online for anyone to study and find security loopholes.
WordPress is extremely flexible, and its security can be further strengthened by taking few extra steps. Malware or DDOS attacks are common on the web and are not just limited to WordPress. This is why there are specialized security services like Sucuri which provide monitoring service to protect against common web threats. U
sing strong passwords, and following some best practices, you can make your WordPress site even more secure.
More on WordPress Security:
3. WordPress Does not Support eCommerce
Unlike other hosted solutions, by default WordPress does not come with a shopping cart or payment gateways. However, there are plenty of WordPress plugins, which allow you to create your own eCommerce website with WordPress. Whether you want to sell physical goods or digital downloads. You will be able to find easy to use plugins to achieve your goals.
Popular WordPress eCommerce Plugins:
4. Future of WordPress is Uncertain
Another common misconception among some people is that if WordPress is free, then what is the guarantee that it will not just suddenly disappear?
WordPress is not developed by a single person, but a community of passionate and professional developers. There are hundreds and thousands of small and large businesses selling products and services based on WordPress. Many of these companies actively participate in the WordPress community.
The WordPress community is not just one company, person, or a small group that would just suddenly disappear. It consists of hundreds and thousands of people from all over the world. While WordPress itself is free, this eco-system alone powers millions of dollars in annual revenue for businesses involved.
In short, WordPress is not going anywhere and its future is bright.
5. There is Very Limited Support Available for WordPress
Another common concern expressed by some beginner level users is that since they are not paying anyone to use WordPress, there is no one to help them out when they need support.
It is true that WordPress is an open source software, but there are plenty of support options available. Free community support is available through extensive WordPress Documentation, support forums, and IRC chatrooms. WPBeginner itself is a free online resource site with tons of WordPress tutorials and guides. However, if you would feel more comfortable by paying someone, then there are many WordPress developers, agencies, and businesses that would offer you paid support as well.
6. WordPress is Free so It Must be Low Quality
WordPress is not developed by just one person or a small team. It is developed by a community and used by thousands of small and large businesses. Its code is open source for any one to read, scrutinize, and examine for quality. It follows and adheres to the very best programming practices. The code behind WordPress is rock solid, developer friendly, open, and free. It is also a state of art publishing system with a very easy to use interface. This is why WordPress is so immensely popular and way ahead of any other CMS software in the world.
WordPress is used by some of the largest brands including but not limited to CNN, Microsoft, Adobe, The New York Times, and many many more.
7. All WordPress Sites Look Similar
A common misconception among unfamiliar users is that all WordPress sites look a like. WordPress uses themes which control the visual appearance of any WordPress powered website. There are thousands of WordPress themes available. Many of them are free and several others are commercially available for a small price.
There are premium WordPress theme shops like StudioPress, Elegant Themes, Themefuse and many others who sell amazingly designed WordPress themes for all kind of websites. These themes all come with customization options of their own, so you can change colors, layout, add your own logo and do anything you want with your theme.
Last but not least, any developer can easily customize WordPress site to look like whatever they want.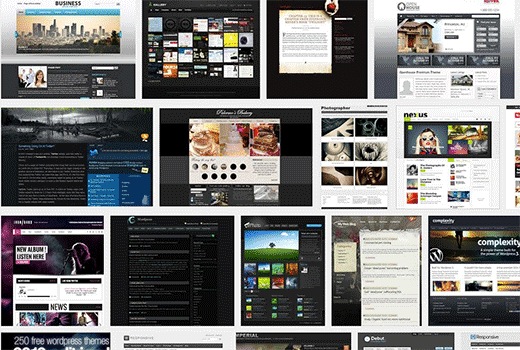 8. WordPress is for Beginners
Another common misconception that we often hear from users who don't know much about WordPress is that it is more suitable for beginner level users who don't know any CSS, HTML, or programming. This is not entirely true. While WordPress is extremely easy to use for beginners without any coding skills, it is also used by corporations, businesses, and developers / programmers.
WordPress is equally popular between beginners and advanced level users. For beginners the good part is that they can create their websites without learning any programming or web design skills. For developers, WordPress provides great flexibility to extend the software with custom code using plugins and themes.
9. WordPress is Not Well Suited For Large (High Traffic) Sites
This is very commonly used by developers of other communities who fail to acknowledge that WordPress powers some of the most popular websites on the web. WordPress.com itself is the 9th most popular website on the planet. WordPress powers high traffic sites like TechCrunch, TheNextWeb, Wired, and our very own List25.
We hope that this article helps clear up some of these common misconceptions about WordPress. If you know of someone who believe in these misconceptions, then please send them this article. Tell them to leave a comment or reach out to us, so we can help educate them about WordPress.
What other common misconceptions about WordPress have you come across? Share with us by leaving a comment below.
Update: One of our users asked where did we get the stat 21.2% of all websites are powered by WordPress. It is mentioned in the recent TechCrunch article as well as W3 Techs Usage Stats.