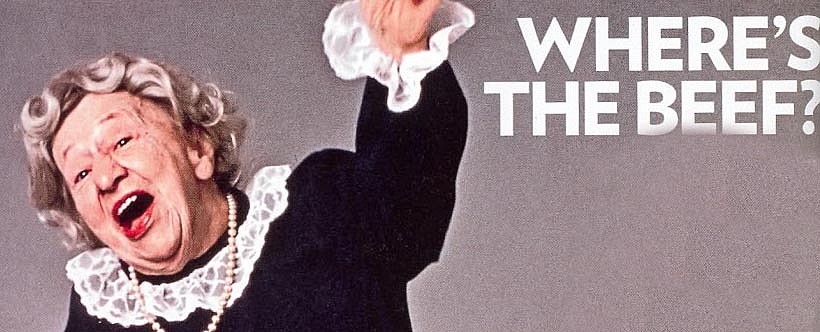 This post originally appeared on the Insiders section of Inbound Hub. To read more content like this, subscribe to Insiders.
Ah, slogans: Those easily identified and often game-changing phrases that can come to symbolize a brand for an entire generation or more.
There are a few legendary slogans in the annals of time: From Coca-Cola's "I'd Like to Buy the World a Coke" and the famous "Got Milk?" campaign of the 1990s, to Nike's "Just Do It" and, of course, "Where's the Beef?" from Wendy's.
While slogans have the potential to take a brand from relative anonymity to household status, they also have the potential to confuse and alienate audiences with vagueness, wordiness or confusing verbage. Rebranding is never any easy decision, but in some cases, it's the right thing to do. In this post, we've highlighted 11 of the most-needed slogan makeovers of all time.
1) Denny's
Denny's "A Good Place to Sit and Eat" campaign was bad for a variety of reasons. For one, it's innocuous and the language isn't memorable. In fact, a Google search of the slogan will likely produce a list of options for "comfortable dining" in your local area, not information about Denny's. A good tagline should be inseparable from its brand. If it's not, how will people remember it?
In 2011, Denny's introduced a new tagline, "America's Diner is Always Open," along with a series of "dinersode" commercials to help drive home the point. The new tagline is more indicative of the warm, inviting atmosphere that Denny's restaurant hopes to invoke.
2) Sara Lee
"Heck, You Don't Even Need a Fork" wasn't a successful slogan for the Sara Lee Company, which has since been absorbed by Hillshire Brands. The tagline was at once confusing and seemingly irrelevant, since the majority of Sara Lee's customers knew they wouldn't need a fork to eat the brand's famous bread or traditional finger-food baked goods.
"Nobody Doesn't Like Sara Lee," though frustrating to some with its double-negative, was catchier and more clever than its predecessor and put Sara Lee's name on the radar of people who had never tried the bakery's products.
3) FedEx
FedEx has had a bevvy of questionable slogans through the years, including "Our Most Important Package is Yours" and "Why Fool Around with Anyone Else?"
"Relax, It's FedEx," which came on the scene in 2004, was a vast improvement over the vaguely-worded and less memorable taglines of the years before.
FedEx finally adopted the simple yet memorable slogan "The World on Time" in 2009, and keeps it to this day.
4) Expedia
Expedia has gained attention early this year for re-direction in the overall feel of their advertising, namely for taking the focus off of the dream vacation you can build through Expedia and focusing instead the ease of experience that comes with booking through Expedia's site.
Until recently, their slogan was "Don't Just Travel. Travel Right," which placed the emphasis on the experiences Expedia could provide.
"Where You Book Matters" is Expedia's newest slogan, and it places the emphasis on the ease of booking within the site, rather than the travel which results from the booking.
5) Ford
Ford's 2008 campaign "Drive One," though relatively successful in its simplicity and direct call-to-action, is not as effective as Ford's newest advertising effort, "Go Further." The newer slogan retains the simplicity, and yet includes a subtle promise of superiority for consumers, an improvement that seems to embody shades of the brand's push for recognition as one of the contenders in the "Fuel Efficiency" conversation in the world of automobiles.
6) Campbell's Soup
Campbell's attempt to appetize with their 1980's tagline "Soup is Good Food" was cut short by the FDA, since the soup contained what many considered to be too high of sodium levels to qualify as healthy.
Campbell's re-introduced their most famous slogan, "Mmm! Mmm! Good!" in the wake of the controversy, which just goes to show that if it isn't broken, don't try to lie about its health benefits.
7) Delta Airlines
Delta introduced a few relatively forgettable taglines in the 1980s, including "Delta is Ready When You Are" and "We Love to Fly and It Shows."
By 1992, they improved the earlier slogan by shortening, which is always a plus on the memorability meter. "Ready When You Are" was a refreshingly quotable and memorable effort after a long line of duds. The 1990s featured a few solid efforts from Delta's advertising team, including 1994's "You'll Love the Way We Fly."
8) Southwest Airlines
Southwest has been a joy in the taglines department for much of its near-50-year history. Past efforts included such gems as "Just Plane Smart" and "Somebody Else Up There Who Loves You."
None of Southwest's efforts were as resonant, however, as "You Are Now Free to Move About the Country," with its iconic airline attendant voiceover and accompanying ding.
9) Folgers
For years, Folgers ran an advertising campaign featuring the tagline, "Mountain Grown, the Richest Kind of Coffee" and was famous for its commercials featuring Mrs. Olson, the Swedish neighbor who always had the best coffee.
It wasn't until 1980s that Folgers introduced its iconic tagline, "The Best Part of Waking Up is Folgers in Your Cup!" which became one of the most memorable taglines in brand history.
10) Nike
In 1988, Nike introduced their iconic slogan, "Just Do It," which would go on to become one of the most recognizable phrases in the history of branding.
In the 1990s, they attempted to repeat the historic effort with the unremarkable and ultimately unsuccessful "I Can." Wisely, Nike abandoned the tagline and readopted its three-word gem.
11) Wendy's
Wendy's Old-Fashioned hamburgers, the third most popular fast food chain in the world, was struggling to differentiate itself from its competitors in the early 1980s, and could have become another forgettable burger chain with slogans like "You're Wendy's Kind of People."
Enter 1984 and adorable octogenarian Clara Peller, who would take Wendy's from fading to front and center with the iconic catchphrase, "Where's the Beef?" The saying would become one of the most famous taglines in the history of branding.
Conclusion
The world of branding contains innumerable bad taglines, from the vague to the confusing to the downright inaccurate. Finding your brand's magic and attaching an iconic tagline is a hefty effort, but will surely pay amazing dividends when it comes to recognition and staying power with your audience.