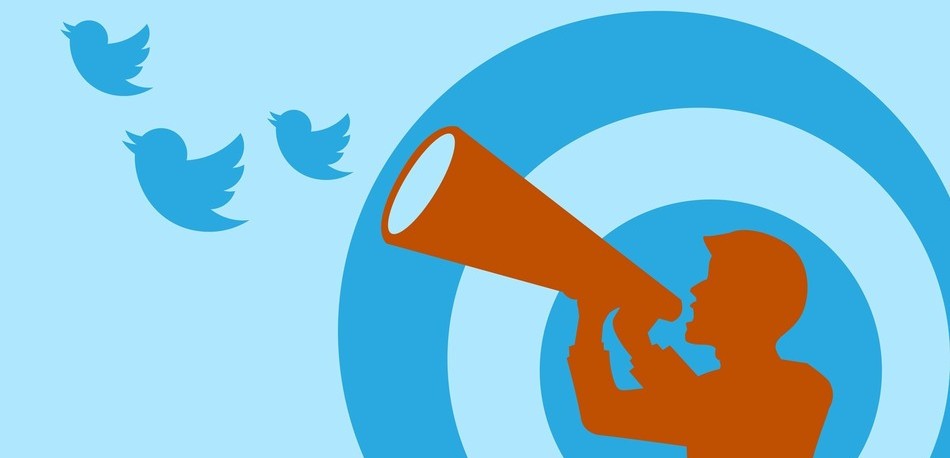 By Sarah Goliger from Inbound Hub – http://bit.ly/1iwUA9A
Twitter is a great marketing channel for driving traffic and generating leads. In fact, 42% of Twitter users follow brands or companies, which means if you're not using Twitter for your business yet, you should learn how to integrate Twitter into your social media marketing strategy.
If you do already have a Twitter account set up for your business, you might consider supplementing your organic efforts with some of the paid promotional opportunities that Twitter offers. Using Twitter Ads is an easy way to get your tweets in front of larger audiences than just those who follow you, which is particularly useful if you're looking to generate more new leads for your database. And you don't necessarily have to spend a fortune on it, either — Twitter ads can be effective even on a relatively small budget.
So, how do you get started? Let's go ahead and walk through the four basic steps to setting up your Twitter ad campaigns, and how to decide on the best structure for your campaigns.
4 Steps to Set Up a Twitter Ads Campaign
Step 1: Choose Promoted Tweets vs. Promoted Accounts
The first decision you need to make when setting up your Twitter ads is whether you'd like to promote your tweets, or promote your Twitter account.
What's the difference? Promoting tweets will allow your tweets to appear in users' Twitter streams or in Twitter search results, whereas promoting your account will display your username under the "Who to Follow" section in users' homepages.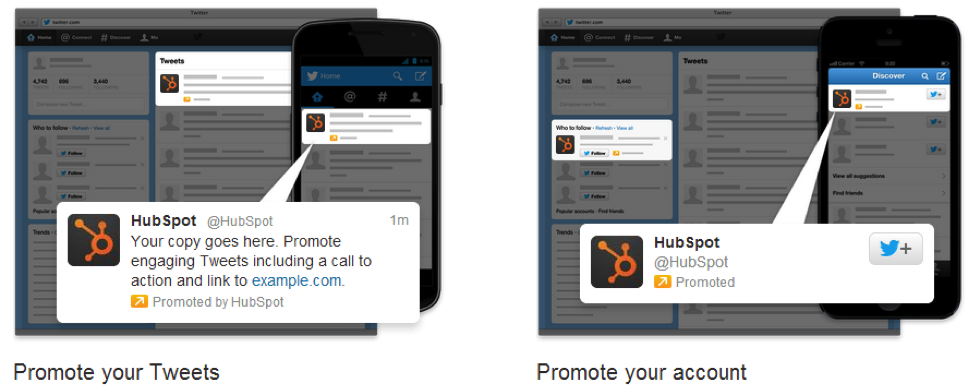 How do I choose? If you're simply looking to grow your follower base and build up your audience, Promoted Accounts is a good choice. However, if your primary goal is lead generation, you'll definitely want to put your money toward Promoted Tweets. Why? Because promoting tweets instead of your account allows you to craft those tweets to promote your content and links to your landing pages, where these Twitter users can then convert on your offers and become leads. Promoted tweets give you a lot more flexibility in terms of the content you're choosing to show to your audience, so when in doubt, I'd recommend selecting this option.
Step 2: Select Primary Targeting Criteria
The next step in setting up your campaign will be determining your targeting criteria. It's important to customize your audience to be a good fit for your company and your message, and that way you're only paying for clicks from folks who might have some interest in downloading your content or learning more about your product or service. A more targeted audience is more likely to help you generate qualified leads.
What are my options? You can target your campaigns by interests and followers, or by keywords (only if you're promoting tweets, not accounts). Twitter now also has a Tailored Audiences feature, which gives you the option to target your website visitors or lists pulled from your database.
What's the difference? Targeting by interests and followers allows you to create a list of Twitter usernames, and then target users whose interests are similar to the interests of those users' followers. A great use of this type of targeting is compiling a small list of the top influencers in your industry. For example, to promote HubSpot's How to Use Twitter for Business ebook, I'll want to target an audience of users interested in social media. Targeting by interests and followers allows me to say, "show these tweets to people who are like Mike Volpe's, Social Media Examiner's, and Social Media Today's followers," and then I've created a large audience that's still tailored to the topic of my content.
With this targeting option, you can also add a list of interest categories — so I could say, for example, "show these tweets to people interested in Marketing, Social Media, or Lead Generation." Again, this creates a broad audience focused on the topic of the content or products you're promoting.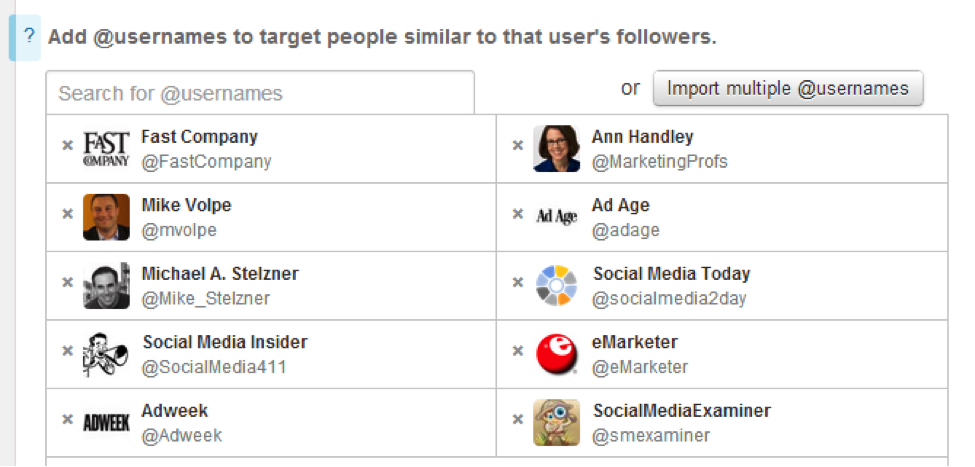 Targeting by keywords allows you to reach people that search, tweet about, or engage with specific keywords. You can also choose to have your tweets appear in either users' timelines or in search results. The benefit of this type of targeting is that it helps you define a more qualified audience, since these people are actively looking for or engaging with those specific keywords that are relevant to your offer.
So if I'm promoting HubSpot's How to Use Twitter for Business ebook, I might set up a keywords-based campaign with some related keywords, like this:

Twitter also included a feature that recommends additional keywords to include in your campaign (just click on "Expand your reach") so you can make sure you're not missing out on any highly-searched relevant terms: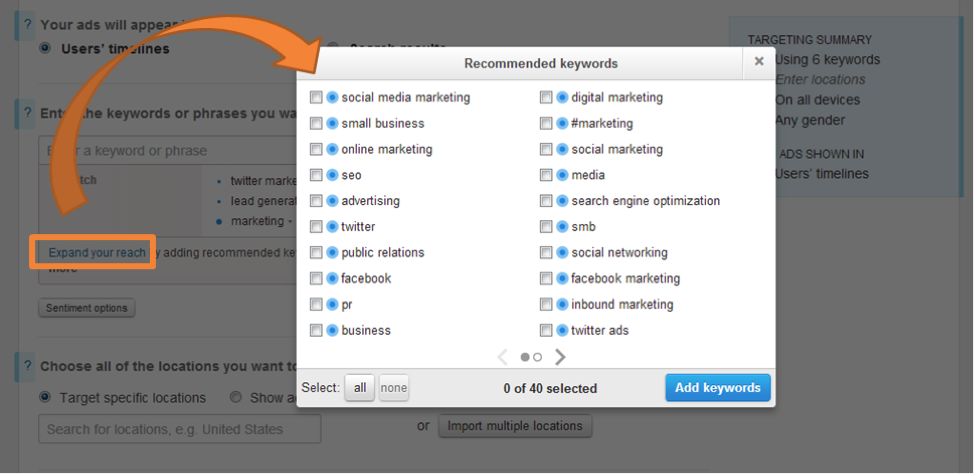 Finally, targeting Tailored Audiences allows you to run retargeting campaigns through Twitter. You'll need to work with one of Twitter's ads partners to build audiences based on pixels on your site or by matching lists from your database. This option is a bit more complicated, so I'd recommend reading up on the details here.

How do I choose? Targeting by interests and followers is best if you're looking to get in front of new audiences, or if you're looking to focus more on brand publicity. This option will yield a larger, less qualified audience. Targeting by keywords, on the other hand, is useful if you're looking for users with potential product interest or purchase intent. This option will give you a smaller but more qualified audience.
Note: I'd recommend trying both types of targeting. Set up an A/B test where you have a campaign of each type with the same tweets, and see which performs better for you.. If you're looking to do more advanced retargeting, try Tailored Audiences.
Step 3: Choose From Additional Targeting Options
What are my options? Beyond targeting certain interests and keywords, you can also choose to target your audience by location, device, and gender.
How do I choose? You'll want to target by location if you run a local business, or if you sell primarily to specific regions (whether that's your city or North America).

You can also select which devices you'd like your promoted tweets to be displayed on — any combination of desktop and the various mobile devices. This is a great targeting option if your product or service caters more specifically to people on the go, or if your website visitors are most likely to convert on your offer when they're in the office.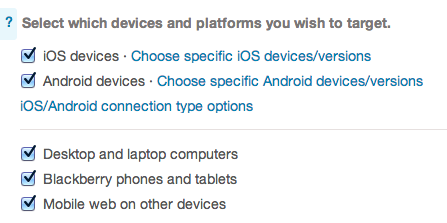 Finally, if your product or service caters primarily to either males or females, you should take advantage of the gender targeting option.

Step 4: Create Your Tweets
This is the fun part! Once you've determined the structure of your campaigns and your target audience, go ahead and create the tweets you'd like to promote. You can either select from existing tweets in your account, or create new ones.
When crafting a new tweet, click on the eye icon to select delivery type — standard (which will promote it immediately to your followers just like an organic tweet), or promoted-only (which will only promote it through your Twitter Ads campaign).
And there you have it! Simply assign your campaign a daily budget and a maximum spend limit, and set it live. Be sure to keep an eye on your campaigns as they run, and continue to optimize them for better results.
What types of Twitter ads work best for your campaigns? What targeting methods have you found to be most successful? Leave a comment below!