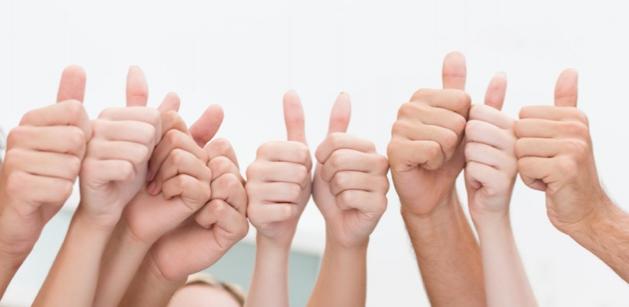 By Lindsay Kolowich, from Inbound Hub | Marketing – http://bit.ly/1tYAwUq
Imagine you and I were chatting, and I leaned in and told you, "I'm a really amazing oil painter. People look at my paintings and think they're photographs. My work brings out emotions people didn't even know they had — I'm that talented."
Would you believe me? Or would you write me off as pretty self-serving?
Now imagine that, instead of me telling you that, someone else did. "You should really check out Lindsay's oil paintings. They're so detailed they look like photographs. Her work brings out emotions I never knew I had — she's that talented." Makes you kinda want to check out my oil paintings, doesn't it? (Confession: I haven't painted since the 4th grade.)
Your product or service could be the best in the world, and it's okay to lay that claim — it's just that people may not believe you unless they hear it from other people, too. And that's exactly what social proof does.
So before we get into how to use social proof on your landing pages, let's make sure we're on the same page with what social proof is.
What Is Social Proof?
Social proof is the positive influence created when a person finds out that others are doing something. It's like when you see a really long line outside a nightclub and assume that club is really good because it's in such high demand. It's also the same reason many people choose which movie to see based on its score on Rotten Tomatoes. In her book Neuro Web Design: What Makes Them Click?, Susan Weinschenck explains, "If you want people to act on the data, then you need to couple it with emotional data."
When someone lands on your landing page, they don't know whether your offer is any good — which gives you the opportunity to sway them using quotes from customers, embedded tweets, and so on. If they see that people who have consumed the offer are speaking positively about it, they are more likely to think positively about it, too — and are therefore more likely to fill out the form and convert to a lead.
Using social proof on your landing pages can be a powerful addition to your marketing strategy. Here are some ideas for ways to do it.
5 Ways to Use Social Proof on Your Landing Pages
1) Customer Testimonials
Short quotes from happy customers can do wonders for your conversion rate, so it's no surprise that this is one of the more common uses of social proof on landing pages and homepages alike. Place these quotes below the form or under the image on your landing page, and boost credibility by including a photo, name, company, and job title along with their quote.
2) Case Studies
If you want to take your customer testimonials a step further, link those short quotes on your landing page to case studies. Check out what Codecademy did on their website: On the landing page, you see short quotes from three very different customers (along with their pictures, names, and locations) under the friendly header, "Codecademy Stories."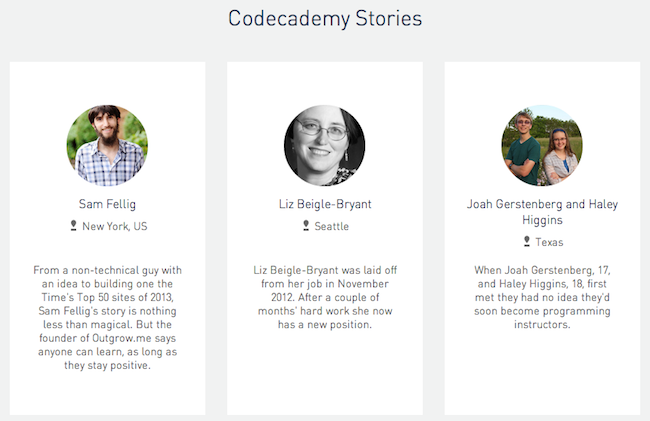 Let's say someone finds Sam's story the most relatable. That person can click into the story to read the whole case study, which Codecademy laid out in a Q&A format.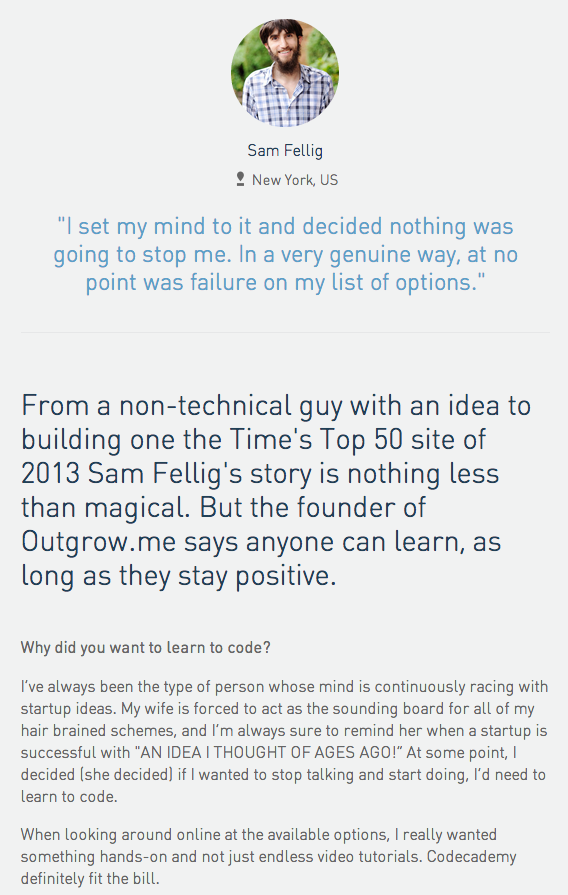 3) Number of Shares
Social sharing buttons showing number of shares (like the ones at the top of this blog post if you scroll up a little bit) are a great form of social proof. If a person sees that a landing page was shared a lot on social, it gives it more credibility.

You can add social sharing buttons to every piece of content you create, including your landing pages (and web pages, blog posts, emails, and so on). Examples of social sharing buttons are the Tweet/Share Button, Facebook Like Button, a Pin It Button, and a LinkedIn Share Button. Learn how to create them here.
4) Embedded Social Media Posts
A great source of social proof is right on social media. Monitor your social media presence regularly to find tweets, Facebook posts, Instagram posts, and so on that positively reflect your brand. On Twitter, you can track mentions of your offers, products/services, or company with a third-party tool like Social Inbox.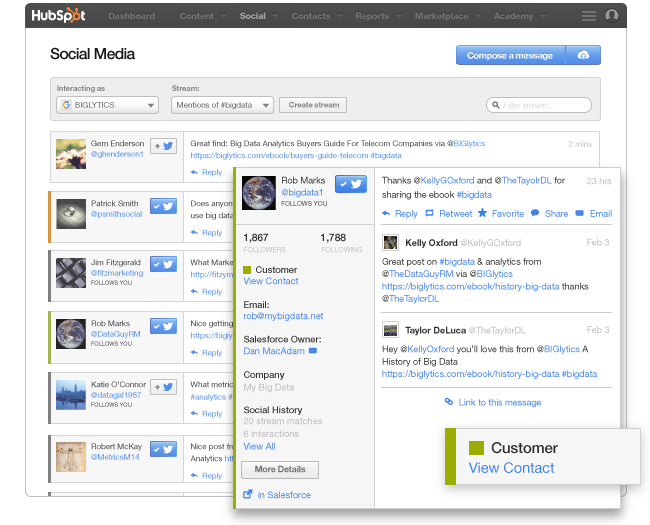 Once you've found the social media posts you want to include, you can embed them on your landing page. Below is an example of an embedded tweet — notice how you can interact with it by retweeting it, favoriting it, or clicking into the profile:
I love cookie days at @HubSpot

— Mike Lemire (@biggestmike) May 29, 2014

Don't know how to embed social media posts? Learn the step-by-step instructions here to embed tweets, Facebook posts, Pinterest pins and boards, Google+ posts, YouTube videos, Vines, SlideShare presentations, and infographics.
5) Number of Users/Downloads
Showing how many people use or have downloaded an offer is another form of social proof. It's like when McDonald's displays signs boasting "Billions and Billions Served."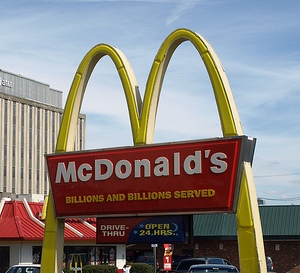 On your landing page, you can include a ticker with the number of downloads or an accurate "ballpark number" (maybe not billions, but a few hundred, thousand, or million) that you update as the number grows. Codecademy's looks like this:

You may want to wait to add this once you have a decent number already.
Bonus: Other Ways to Gain Trust On Your Landing Pages
1) Trust Seals
Trust seals are symbols that help reassure site visitors that their sensitive information is secure with the company they're giving it to. Here are a few that might be familiar to you:

In theory, people feel better about filling out your forms with their information if you use a trust seal — but that's not the case for every company. The best way to learn when to use a trust seal (or really any of the above social proof) is to run some A/B tests and see if adding trust seals increases conversion rate on your landing pages. Click here to learn more about using trust seals on your landing pages.
2) Privacy Policy
Sometimes, people are hesitant to convert on a landing page unless you spell out that you won't be distributing or sharing their information. One to two sentences regarding the collection and use of their information typically does the trick. You can also link to your privacy policy inside the form (but make sure the link opens up a new tab so they aren't directed away from the landing page). Like with trust seals, privacy policies are something you'll have to experiment with to see what works with your audience.
How else can you use social proof on your landing pages?