High-Level Consulting for Fast Results
If you're just starting to figure out what your company or organization needs to be successful online, to develop a new or redesign an existing website, you might not know where to start. Consulting is a great way for me to get involved with your project at a high-level, provide some fast results and insights, and for us to see if we're a good fit for a long-term working relationship.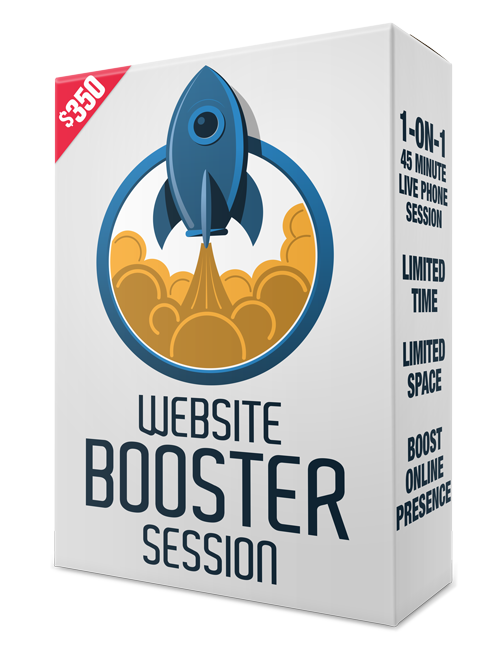 During this 45-minute, 1-on-1 phone session,
we'll work together to:
I'll get you closer to your goals and help you stop wasting time on stuff you shouldn't be doing. You'll be excited and inspired to turn your website into a highly effective, business-generating machine that practically runs itself.
Have Questions?
Q:"Do I need one of these sessions?"
A: If you operate a website for your company or organization and struggle to get the results you expect, this session is for you. It will bring clarity to how you publish and manage your website, making it a powerful tool to promote your business online.
Q: "When are sessions scheduled? How do they run?"
A: We'll work out a time that works for both of us, but typically I schedule sessions in the late morning or early afternoon of weekdays (Monday through Friday). Website Booster Sessions are conducted over the phone or via Skype.
Q: "Is a 45 minute session long enough to accomplish anything?"
A: Absolutely! My process leads us through a series of discussions that reveal internal and external obstacles to success and uncovers steps needed to hit targets and goals. At the end of the session, you'll have a clear picture of success and a plan to get you there.

From our first discussion about Concerts in Care, Len Marshall got inside who we were, how we were rebranding, and understood our three target audiences. He created a vibrant, user-friendly, info-filled website that has garnered great response for musicians impressed with our roster, donors feeling satisfied, and yesterday, our first online sale of concerts!
Debra Chandler, Concerts in Care Ontario
I just opened a high-end barbershop in Toronto and I started to do advertisment on Linkedin, instagram and most social media sites by myself. Len has been always supported me and has given me the best advice ever, which has helped me to grow more and more. In one world I should say that I was very lucky to find him as a web developer and social media advisor. Thank you, Len!
Shery Oji, Blade & Razor Company
My availability for these sessions is very limited.
Fill in this short survey. Once completed, you'll connect to my schedule where you can choose a time that best suits you.
Note: Completing this form indicates you don't mind receiving some follow-up and other contact emails from me. I promise not to spam you or share your information with anyone else!